Cash Management Services
In today's fast-paced business environment, you need tools to help you manage your cash resources more effectively … to help you THRIVE HERE.
Quick List:
ACH Manager – Electronic Payment Service
This "Automated Clearing House" service of Traverse City State Bank helps you to save time and money, improve accuracy and efficiency, and makes your employees happy! The most common services of ACH Manager include:
Direct Deposit: Electronic payment from your company directly to checking/savings accounts of your employees, retirees, taxpayers or shareholders
Direct Payment: Allows electronic transfer of payments from your customer's account directly to your company's account – ideal for collecting recurring payments
---
Remote Deposit Capture (RDC)
With Remote Deposit Capture (RDC) from Traverse City State Bank, you can deposit checks directly from your office to the bank with a desktop scanner and Internet access. This means faster availability of your funds with same-day credit, more information with complete deposit history available online, and time saved as daily trips to the bank are eliminated.
RDC Overview and FAQ
>
Positive Pay Services can help protect you against paper check fraud. Our technologically advanced methods will compare check-paid items against issue information to identify discrepancies and ensure that only the checks you issue are paid.
Positive Pay
View the Positive Pay demonstration video.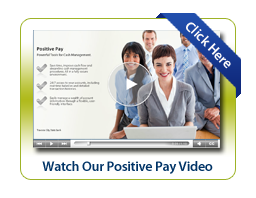 ---
Business Online Banking and Bill Pay
Traverse City State Bank is pleased to provide your business the convenience of online access in an easy-to-use interface. This Business Online Banking service is the perfect solution for businesses seeking to review real-time account information, transfer between accounts, export to accounting programs and make online payments via Bill Pay service 24 hours a day – including paying recurring and scheduled bills.
---
Merchant Credit Card Processing Services
If you are a new or established business, Traverse City State Bank has partnered with FiNet Merchant Services to offer competitive processing options, including equipment and specialized solutions customized for a variety of industry types. Let us show you what a difference our unique product solutions, competitive pricing and service can provide your business today. Contact us at 231-995-5500 today!
---
Business Credit Cards
The Visa Business Card lets you separate and control expenses, manage your cash flow and provides you with unsurpassed acceptance. Rewards Visa Card or Traditional Visa Card options are available for you and your employees.
---
Commercial Courier Service
This service is a unique offering to our business customers in which we pick up and deliver your deposits or change order requests at your place of business.
---
Wire Transfer Services
Quickly and easily, you may originate one-time or recurring wire transfers via our secure wire service – adding another tool to your Cash Management solution.