Other Banking Services
Traverse City State Bank has many ways to make your banking easier … so you can THRIVE HERE.
Quick Product List:
Automatic Transfers
Checking to savings, savings to checking, loan from checking … we can establish automatic transfers to fit your needs.
---
eStatements
Receive your statement electronically if you want to eliminate your mailed paper statement.
Enroll for secure and eco-friendly eStatements within Online Banking.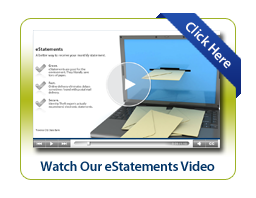 eStatement Help Tips:
Enrolling in eStatements stops your paper statement delivery and enables secure, electronic delivery of your statements for up to the last 18 months, to your online banking page.
To enroll:
1. Go to the Options tab in Online Banking and find the eStatement Enrollment section.
2. Select each account you would like to enroll in eStatements by placing a check mark in the Primary Accounts column and the Enrollment Status column. If you have already enrolled an account, it will display as 'Enrolled'.
3. Verify or Change your email address by typing the correct address in the space provided.
4. Confirm your email Address by re-typing the correct address in the space provided.
5. Click the link titled 'Traverse City State Bank eStatement Agreement'. The Disclosure will open in Adobe Portable Document Format (PDF). Once you have read the disclosure, return to the enrollment screen, and accept the disclosure by clicking the box.
6. Click the 'Accept' box to complete your enrollment.
You may decline or defer enrollment to a later date by clicking the 'Decline' box or the 'Ask Me Later' box.
To View your eStatement:
1. When your current eStatement is available you will receive an email notification.
2. Log into Online Banking.
3. Choose the appropriate account.
4. Go to the 'Documents' tab.
5. Choose the account and time frame.
Need help with eStatements?
Please contact us at (231)995-5500
---
Direct Deposit
Save a trip to the bank with this convenient service. You can have your payroll, Social Security and other recurring payments automatically deposited to your account – it's safe and free!
---
Online Banking
Traverse City State Bank is pleased to provide you the convenience of online access in an easy-to-use interface. This Online Banking service is the perfect solution:
Review real-time account information
Transfer between accounts
View history of transactions
See online check images
Export to accounting programs
Enroll in Online Banking

HERE
---
Online Bill Pay
Add to Personal Online Banking the Bill Pay service, which allows you to:
Make payments online 24/7
Schedule recurring bills to be paid the same time each month
Schedule future dated payments
View payments itemized on your checking account statement
---
Safe Deposit Box
A safe deposit box is a secure box that is kept in a vault inside the bank. To access your box, two keys are required, one from you and one from the bank. Safe deposit boxes come in a variety of sizes and are rented by the year. They are perfect for storing important documents such as birth or marriage certificates, insurance policies or other documents that require extra protection.
Safe deposit boxes are available at all of our locations.
---
Debit-ATM Card
What is easier than writing a check? It's an electronic check! You can use your card at any location that displays the VISA® logo, and the transaction debits your checking account.
(Your check card also acts as your ATM card, allowing for account transfers and balance inquiries at ATM machines.)
To protect our customers from potentially fraudulent activity on Debit cards,Traverse City State Bank uses an automated calling system, which contacts our customers if the card has been restricted. If a card is restricted due to unusual activity or if they are trying to conduct activity out the country, an automated call will be initiated to our customers. The customer will be asked about the transaction and you will have the opportunity to confirm or deny the potentially fraudulent activity on their account.
If the customer confirms the transaction, the card will remain active, but if you did not authorize the transaction, the service will change the status of the card to "stolen" and it will no longer work. The customer will then need to contact a branch to order a new card.
Need to change your PIN? Call 1-800-567-3451 to change your PIN or update a forgotten PIN.
---
ATM Card
An ATM card allows you to access your checking or savings account from most any ATM or cash machines nationwide. Transactions from machines owned and operated by Traverse City State Bank are free of charge.
(Please note: You may also be charged a fee by the operator of the ATM you use, which is not refundable by the Bank.)
Need to change your PIN? Call 1-800-567-3451 to change your PIN or update a forgotten PIN.
---
Consumer Credit Card
A VISA® Credit Card with many options - Rewards Card or non-rewards VISA® Platinum cards include 24-hour cardmember service, VISA® zero-liability, merchant discounts, and more!
---
Wire Transfers
A wire transfer is an immediate and irreversible payment of funds. Wire transfers can be sent from any bank office, but must be requested in person.
---
Other Services
Cashiers Checks
Personal Money Orders
Prepaid Gift Cards and Travel Cards
Night Depository